2016 Miss PASCO Application
Fill out the application form, submit with essay, and a recent 8"x10" photo (profile picture) to email address: MissPASCO@coloradopasco.org by November 18, 2015.
Are you a Filipino-American woman between the ages of 15-19? Are you looking for the opportunity to build your leadership skills, get involved in community service and meet other like-minded women?  This year, PASCO welcomes candidates for the Miss PASCO leadership program to help make a difference in our community.
PROGRAM REQUIREMENTS
As a 2016 candidate you will need the following:
Paid PASCO membership for 2016.
Resume that includes academic achievements, service, organization involvement, and work experience.
Attend a panel interview on November 21, 2015.
Write a 250-word essay about a service project that you are passionate about. You may use the following questions as a guide.

What is a type of volunteer service you care about? (e.g. domestic violence towards women, cancer awareness, homelessness, animal protection)
Why do you care about this service? Why is it meaningful to you?
Who does the service help?
Do you have experience volunteering in this area?
If selected as Miss PASCO, how can you implement a project to target this service area and help this group? *Must answer this question

Complete 2016 Miss PASCO Application Form.
 JUDGING GUIDELINES
Contestants will be judged in three (3) categories:
PASCO Program Involvement (20%)
Resume (30%)
Panel Interview (50%)
TITLES
The top three candidates will qualify for the final interview at the PASCO New Year's Eve Gala and be eligible for the 2016 Miss PASCO Leadership Program.  The winner of Miss PASCO will carry the title for one year, during which she will represent the Filipino American community in her new role.  2016 Miss PASCO will be required to implement one service project in the community and make an appearance at key PASCO events such as Easter Picnic, July 4th Picnic, and Dragon Boat Festival.
Miss PASCO will receive a crown, sash, prizes, and an opportunity to represent PASCO at the 2016 Asian American Colorado Leadership Program (if she qualifies).
Miss Unity, First runner-up will receive a crown, sash, and prizes.
Miss Charity, Second runner-up will receive a crown, sash and prizes.

2015 Scholarship Educational Award
The Philippine American Society of Colorado (PASCO) is a 501(c)3 non-profit organization serving Aurora and metro Denver area.  Each year, PASCO offers a scholarship to a freshman college student that has shown exemplary performance throughout their high school career not only in their academics, but also in their community service, including their role in promoting the Filipino culture.
Criteria
| | |
| --- | --- |
| GPA | 25% |
| Community Service | 20% |
| Special Achievements / Extra Curricular Activities | 20% |
| PASCO involvement | 20% |
| Essay | 15% |
| Total | 100% |
Instructions
Applicant must submit a completed application form with the required supporting documents.
Applicant must be a 2015 high school graduate, currently a freshman college student.
Essay must be type written following MLA format. It can be up to three (3) pages on 8 ½" x 11 paper.
Application must be received by December 1, 2015.
Submit 2015 PASCO Scholarship Educational Award Application (with a recent 2"x2" photo) via email to: scholarship@coloradopasco.org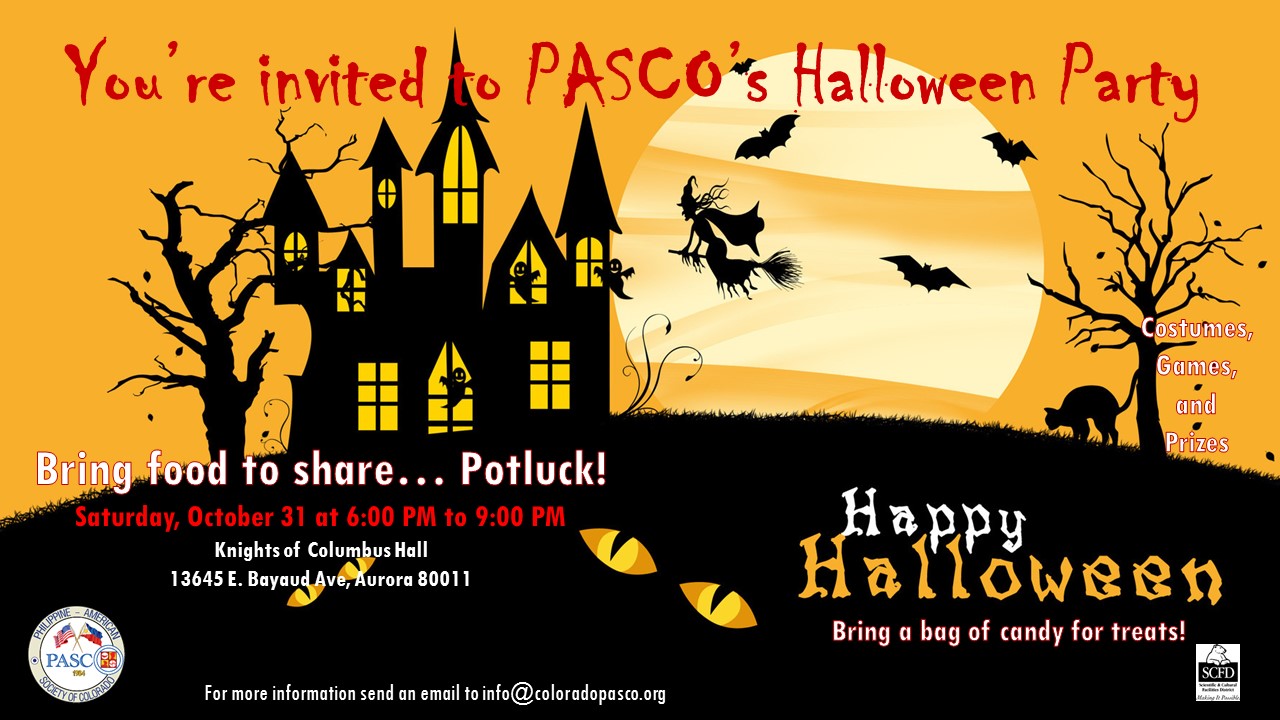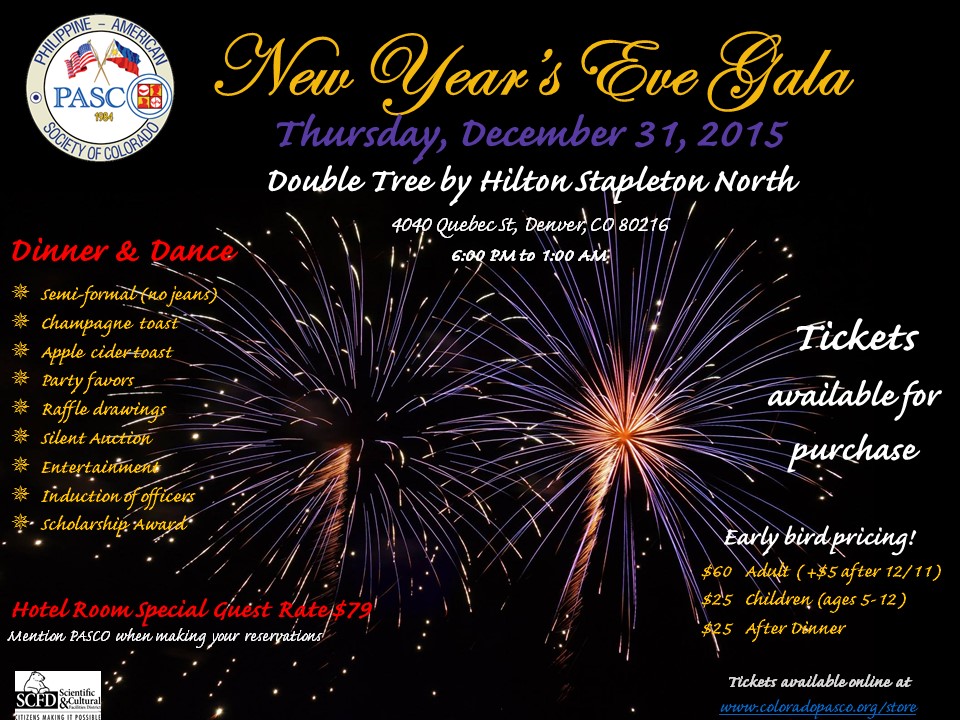 Tickets on sale now online at the PASCO online store


It's time to renew your PASCO membership!
We are on FaceBook. Click LIKE on the activity feed below!